If you are new to bike riding, you might be wondering what clothes to wear. With the right cycling apparel, you can make your ride more comfortable and enjoyable, which is why it's important to know how to choose the right cycling clothes for your particular needs. In this blog, we'll go over what to look for in bike apparel and how to match your apparel choices with the weather that you encounter and your riding style. And don't forget, there is much more to cycling apparel than a jersey and shorts!
Cycling gloves
Wearing the right cycling gloves is necessary for a comfortable bike ride. Bike gloves should have a tight fit. Glove fabric is soft and durable. The palms of the cycling gloves offer non-slip protection with enhanced comfort. The grip that is provided by cycling gloves is important. However, the most important feature of bike gloves might be the padding that is provided on the palms of the hands. After only a short time on the bike, blisters and pressure points may develop on your hands without a good pair of bike gloves. Additionally, you may want to consider a pair of gloves with reflective materials or bright colors. These features will help cars see you better in low light or darkness. Other features like touchscreen capability or gel inserts can help as well. Visit our collection of cycling gloves to learn more.
Cycling jacket
Cycling jackets are an essential apparel item for cyclists, no matter how experienced. Bike jackets are designed to provide protection from the weather. Some jackets such as the Peak 1 Sports Cyclone biking jacket offer protection from the rain by using a waterproof fabric or shell. The Vis Soft Shell and other cycling jackets have thermal fabric or fleece lining for the purpose of providing warmth on a ride. A third style of jacket is lightweight and packable like the Chiaro series from Peak 1 Sports. These jackets provide wind and water resistance and have the added benefit that they can easily be taken off and stored in a jersey pocket or bike pouch when they are not needed. Peak 1 Sports offers a wide selection of cycling jackets and apparel in various sizes and styles, so we're sure that you'll find something that fits your needs.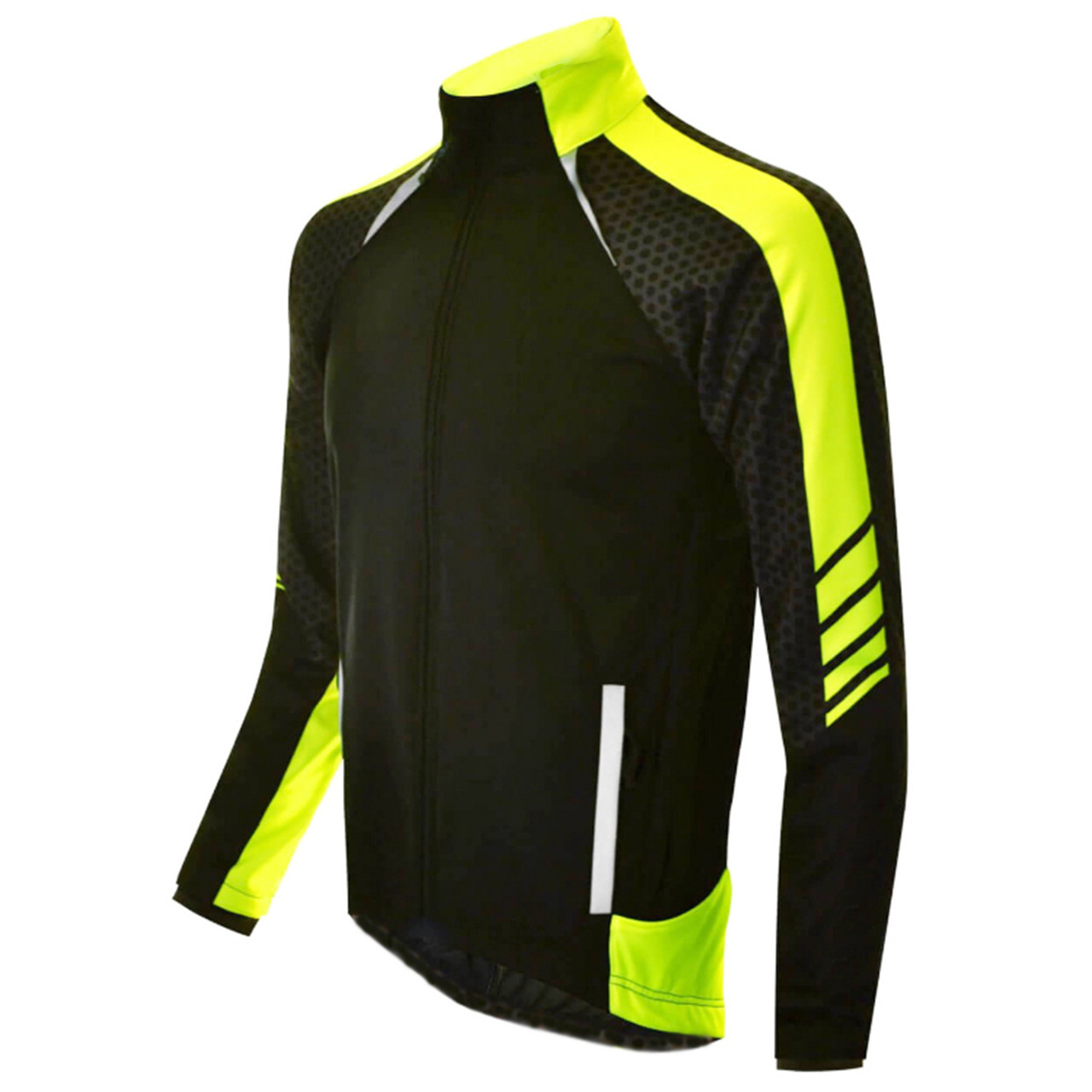 Arm and leg warmers
If the weather is cool, arm and leg warmers can be important pieces of cycling apparel! Bike arm sleeves and leg warmers come in a regular lycra, compression fabric as well as a fleece lined thermal lycra fabric for added warmth. The most important feature of arm and leg warmers is that they can be taken off when you get too warm. Arm warmers are long sleeves that reach from your wrist to your jersey sleeve for added warmth and protection for your arms. Leg warmers start at the thigh and extend to the ankle. Leg warmers also have zippers with a reflective cover so that they can be put on and taken off over your bike shoes. And don't forget that arm sleeves and leg warmers for biking offer SPF 50+ protection from the sun.
Cycling socks
The bike socks you wear are important for your comfort no matter what type of cyclist you are. All cyclists should wear socks that wick away sweat, cushion your feet, and keep them dry and comfortable. Cycling socks are made of acrylic, nylon, and lycra because these fabrics are stretchy and breathable. Cycling socks also have antimicrobial properties to reduce odor. Cycling socks can be made with short or tall cuffs. Tall cuffs offer an added layer of protection for your ankles and lower legs from bike pedals or chains. As with most cycling apparel, bike socks with bright colors are popular because they offer high visibility on the road.
Cycling jersey
A cycling jersey keeps you comfortable as you ride by wicking moisture and sweat away from your body to keep you cool and dry. Bike jerseys are made of moisture-wicking materials, so they quickly dry and feel cool, dry, and comfortable during long rides. When it comes to a cycling jersey, it's important to choose one that's the right size. Jerseys can be purchased in sizes up to 5XL to meet the needs of big and tall riders. Peak 1 Sports offers a wide array of jerseys with a design and style for every bike rider. Cycling jerseys are made with three back pockets and a full length zipper. Back pockets are great for storing items such as cycling apparel items, snacks, water, or bike tire tubes and pumps.
Cycling shorts
The right shorts are essential for a comfortable bike ride. To start with, the pad or chamois in cycling shorts allows for a soft cushion against your bike seat and prevents soreness. Most bike riders say that high quality bike shorts with a premium chamois are the single most important piece of cycling apparel. Cycling shorts and made with nylon, lycra, and spandex fabrics to provide breathability and a compression fit. The tight, compression shorts or road cycling shorts also prevents chafing by stopping the movement of fabric against your skin. Recent innovations with cycling shorts have added a tight fitting pocket that is great for storing your cell phone.
Conclusion
The main things to think about when purchasing cycling apparel are comfort, fit, and breathability. Comfort is very important so you can enjoy the ride without being distracted. Good sizing and fit is necessary because oversize apparel will cause extra wind resistance and chafing caused by unnecessary movement. Cycling apparel that is too small will restrict movement. Breathability is crucial because you want to stay cool and dry, even when you are sweating. To find cycling jerseys and apparel that meet all of these criteria, it is best to try them on and go for a test ride. The wide collection of high-quality and affordably priced cycling gear at Peak 1 Sports will make sure you are prepared for any type of weather and riding conditions.