If you're looking to upgrade your cycling wardrobe with something eye catching and unique, then you're at the right place! Peak 1 Sports offers custom bike jerseys with great designs for your cycling club, team, event, or business. With our easy to use online design tool, you can select a design template for your cycling jersey and then customize it with any color, logos, graphics, or text that you would like. There are many different bike jersey designs and colors to choose from. And if you don't find the design that you are looking for on our website, contact us to have our graphics department turn your logo, idea, or graphic into a custom made cycling jersey. Get started now on the fun and exciting process of creating a custom cycling jersey for your riding group!
Benefits of a Custom Jersey
Bike jerseys are a popular way for cyclists to show their pride and support for the team they are on, the club they ride with, the company they work for, or the event they participated in. Custom cycling jerseys and apparel are often designed around a team, club, corporate, or event logo, which makes the riders part of something bigger!
There are many more benefits to having custom cycling jerseys, including:
Cycling jerseys provide a functional purpose to the cyclist by protecting you from the elements, wicking moisture and sweat away from your body, staying comfortable on longer riders, providing pocket storage, and much more. Custom cycling jerseys do all of these things with your own design!
Custom cycling jerseys are less expensive than many jerseys in retail shops because the customer works directly with the manufacturer and orders multiple items. The cost savings from eliminating the middleman and the volume discount make custom jerseys for biking a very affordable option.
Custom cycling apparel offers the customer more options for both design and product features. As with any custom product, custom jersey production requires a greater level of customer care and attention to detail. The service provided by Peak 1 Sports makes your custom jersey product a pleasure from start to finish.
Unlimited design options create a truly unique custom jersey design that no one else has. Custom jerseys use sublimation printing starting with blank, white fabric. This means that you have access to unlimited color options over the entire surface of the jersey.
The most choice and flexibility for your jersey is found with custom. Jerseys can be ordered in men's and women's sizes from XS through 5XL. Bike jerseys can be made in short sleeve, long sleeve, or sleeveless. Jersey features can be customized with a full length YKK front zipper, a zippered back pocket, reflective piping, flatlock stitch, and lycra sleeve ends.
Private online stores are offered at no charge for ease of order fulfillment and payment. Peak 1 Sports even ships orders to each individual rider in your group.
How to Design Your Own Cycling Jersey?
Creating your own custom cycling jersey is fun and easy with Peak 1 Sports! Our graphics department will create a design proof with a mock up of your bike jersey for review, edits, and approval prior to production. Customers can choose from our pre-made jersey designs or can create their own design. Customer designs can be created by an artist or designer on your end or simply from a graphic, image, logo, or idea that you have in mind. After the design proof is approved, the custom cycling jersey order will be ready in as little as three weeks. Contact us by phone or email to discuss your custom jersey project with one of our representatives.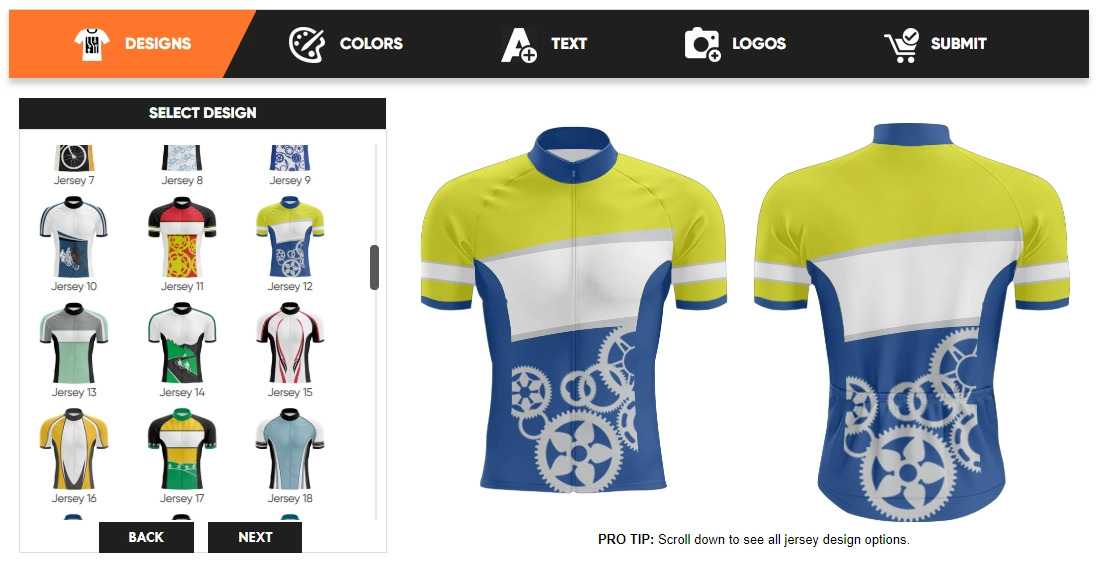 Custom Bike Jerseys Are Affordable
Did you know that you can have custom jerseys made for the less than the price of a cycling jersey in most retail shops? That's right, custom bike jerseys are affordable! A five jersey minimum order starts around $75 per jersey. There are price breaks at order quantities of 25, 50, and 100 jerseys. The price for a 100 jersey order is approximately $38 per jersey. Peak 1 Sports specializes in large quantity custom jersey orders. Contact us for a custom quote on your project of 200 or more jerseys.
Conclusion
Peak 1 Sports designs and produces custom cycling jerseys for cycling clients across the United States. Custom bike jersey designs can be started on the P1S Designer, a design created by you, or from an image or idea that you have for a great jersey design. In any case, there is always a design proof with a mock up of the jersey created by our graphics department for your approval prior to the start of production. Custom cycling jersey designs are then printed on the highest quality moisture wicking polyester fabric that are perfect for biking. So if you're looking for a unique custom cycling jersey that will make your group or event stand out from the crowd, check out what we have to offer!